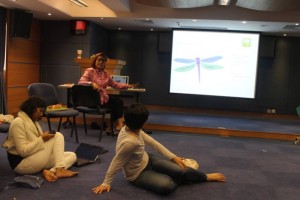 Three things I've learned at the Gender and Internet Governance Exchange, Asia
Noemi Lardizabal-Dado was one of the participants in the Gender and Internet Governance Exchange in Asia. In this feminist talk, she shares how she participated with other feminists in the questioning around "what kind of internet do we want and what will it take for us to achieve it?"
Two concepts glared at me: Feminist? Internet governance activist? Am I all that? See, I tread carefully around labels because I encounter people who are "allergic" to the word "feminist" or "activist". A feminist or activist is often seen as militant or disruptive and this often spells trouble. As a citizen with an online voice enabled by technology and social media, I have the capacity to connect directly with the people who matter and who could make a change.
I didn't want people to distance themselves from me because of these controversial labels. I pondered over these words, "internet governance activist" and as I searched for the definition online, I discovered that I am part of the internet governance group, as one of the multi-stakeholders.
I find difficulty in articulating the things I do, to advocate for social change for social good. Everything I have ever done as a blogger and on social media for the past nine years was through intuition. When I received the acceptance to the Gender and Internet Governance Exchange (gigX) I was so excited because it meant widening the scope of my advocacy. There was no doubt that the gigX would widen my knowledge on the intersections between women's rights and internet governance. I want to transfer this knowledge to my community by sharing the three things I've learned at gender and internet governance exchange. Some of these lessons are interrelated but I want to highlight each of them separately.
1. The feminist approach to the internet
Someone asked me at the gigX "so are you a feminist?" I didn't quite know how to respond to that "feminist" label because I don't categorise myself as one. Don't get me wrong, I advocate for women's rights among many others but I didn't want these labels to turn people off. After the presentation of the "Feminist Principles of the Internet", my doubts in the "feminist" label disappeared. Now I embrace my feminism.
2. The clusters of the 15 Feminist Principles
My "feminism":http://feministreview.blogspot.com/2007/10/rethinking-global-sisterhood-western.html reminds me of a sisterhood. In a roomful of fellow feminists and activists, we pondered on the question: "As feminists, what kind of internet do we want and what will it take for us to achieve it?" I learned about the clusters of the Feminist Principles of the Internet: access, economy, expression, consent, autonomy, agency, movement and public participation.
These are not new concepts to me but I liked the clear presentation and the affirmation of them. I initiated a movement in 2007 together with other bloggers in reshaping the Filipina image of the internet, as more than just mail order brides. Through our blogs and stories about the loving Filipina wives and "mothers":http://filipinaimages.com/join-the-campaign/, the professionals, and the outstanding bloggers were shared on the World Wide Web.
3. Deconstructing jargons and acronyms
I use language that is accessible to my community. How is real progress going to be made if I can't communicate the feminist approach to the internet? Thankfully, the gigX encouraged us to list down jargon and acronyms that are often encountered in the gender and internet governance spaces: intersex, patriarchy, multi-stakeholderism, World Summit on the Information Society (WSIS), neoliberal capitalist, UN Commission on Science and Technology (UNCSTD), Internet Engineering Task Force (IETF), Internet Corporation for Assigned Names and Numbers (ICANN), World Wide Web Consortium (W3C), Zero rating, Beijing Platform for Action (BPFA).
Communicating and transferring the knowledge of these concepts to my community was made easier due to the available resources from the gigX website, this includes training materials and tools.
My feminism will always be in the agenda of internet governance. The feminism I stand for is to work towards the dismantling of patriarchy and putting "an end to fear, helplessness, humiliation, and one that condemns violence and identifies and supports all diversities."
I know my feminism is disruptive and the kind that I will be judged for all the time. Despite this, I do not doubt that I am a feminist.
Source: Internet Governance ::: GenderIT.org
Three things I've learned at the Gender and Internet Governance Exchange, Asia
Three things I've learned at the Gender and Internet Governance Exchange, Asia